WEDNESDAY :: MAY 31, 2023





HEROESCON RETURNS JUNE 16-18, 2023!
CHECK OUT OUR INCREDIBLE FEATURED GUESTS AND INDIE ISLAND LIST FOR OUR 2023 SHOW!
EVEN MORE GUEST ANNOUNCEMENTS UP TODAY!!

GET YOUR 3-DAY ADVANCE TICKETS TODAY!





HEROES CAN SHIP ANYTHING TO ANYWHERE!
CALL OUR STORE AT 704-375-7462 BETWEEN THE HOURS OF 10AM-7PM OR SEE MORE INFORMATION ON OUR BLOG!
YOU CAN PLACE ORDERS BY CALLING OUR STORE AT 704-375-7462
OR BY EMAIL TO: heroesarenthardtofind@gmail.com

HEROES HOURS:
MONDAY-TUESDAY; THURSDAY-SATURDAY: 10AM-7PM
WEDNESDAY: 10AM-9PM
SUNDAY: 1PM-6PM
NEW RELEASES FOR MAY 31, 2023

HEROESCON 2023
"KIBBY'S SIDEKICKS"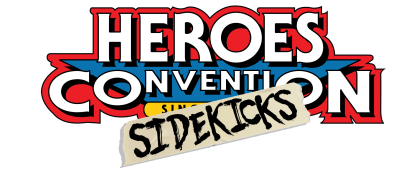 Our small, hardworking, staff couldn't pull off the Heroes Convention each year without the help of dedicated volunteers, lovingly nicknamed "Kibby's Sidekicks" in memory of our friend, and HeroesCon Volunteer Extraordinare, Charles Kibby.

SIGN-UP TO BE ONE OF OUR "SIDEKICKS" TODAY!

ARTIST ALLEY LISTINGS ARE UP!
Check out the incredible creators joining us this June 16-18!
2023 Artist Alley Listings
(Table numbers will be published in the coming weeks!)
TICKETS ON SALE NOW!
The Heroes Convention returns to Father's Day Weekend this June 16-18!
Get your
3-Day Advance Tickets TODAY!
____________________________________
3-Day Advance Pass – $65
3-Day Advance Pass includes:
Saves $35 over 3 Day-Of Ticket Purchases
3-Day Pass Holders will be allowed into the Heroes Convention immediately after VIP* 3-Day Pass Holders, and BEFORE Day-Of Ticket Holders All Three Days
FREE Entry to the Charlotte Mini-Con, February 4, 2023 at the Grady Cole Center
____________________________________
Single-day tickets are only available at the door.
FRIDAY ONLY – $35.00
SATURDAY ONLY – $35.00
SUNDAY ONLY – $30.00
Children 16 Years of Age and Under will get in FREE with a Paying Adult.
Paying adult MUST BE PRESENT for 16 & Under FREE TICKET to be distributed. Student or State ID may be requested for children 13-16 who appear older. FREE TICKET does NOT INCLUDE any incentives.
____________________________________
HEROESCON 2023 EXHIBITORS:
Booth spaces at the 2023 Heroes Convention
are almost completely sold out!
If you are a vendor looking to reserve a 10'x10′ or larger booth space at the 2023 Heroes Convention, please email Karla@heroesonline.com to get an application along with a map of available booth spaces at our 2023 show.

____________________________________
HeroesCon Featured Guest Announcements, Artist Alley Table Listings, and Exhibitor Booth Listings will all be published very soon! Stay up to date by signing up for our weekly NEWSLETTER, and follow us on social media @HeroesOnline!




Marvel: Universe of Super Heroes Is
OPEN NOW!
DISCOVERY PLACE SCIENCE
CHARLOTTE, NC (March 15, 2023) – Following the smash success of its engagement at the Oregon Museum of Science and Industry, Marvel: Universe of Super Heroes is about to land at Discovery Place Science. This will be the exhibition's only stop in the Southeast and the last stop in the U.S. before heading to Europe. Marvel: Universe of Super Heroes features more than 300 original artifacts, including some of Marvel's most iconic costumes, props and original art, much of which has never before been put on public display.
The exhibition tells Marvel's story in comics, film and other media and commemorates 1939's seminal Marvel Comics #1—the first-ever appearance of Marvel's Super Heroes—as well as the Marvel Cinematic Universe. This exhibition has drawn widespread acclaim from audiences and press alike.
"We are beyond thrilled to bring this incredible blockbuster exhibition to our community," said Catherine Wilson Horne, President & CEO of Discovery Place. "This is Discovery Place Science's first post-pandemic exhibition of this caliber, and it is a true showstopper. The title speaks for itself, and we can't wait to welcome fans from Charlotte and beyond to experience Marvel like never before."
"Our show begins with the origins of the Marvel Universe and moves through to the present day, giving a chance to see some of the rarest and most precious objects from the past 80 years of pop culture history and pointing toward the future with work from some of today's foremost creators," says curator Ben Saunders about the exhibition, which is produced by Semmel Exhibitions, Marvel Entertainment, and MoPOP.
Marvel: Universe of Super Heroes traces the story of the company and its influence on visual culture while also uncovering the narratives of individual characters such as Captain America, Spider-Man, Black Panther, Captain Marvel, and Doctor Strange, giving insight into how Marvel has influenced and drawn inspiration from the ever-changing tides of popular culture; tracing how their stories have responded to historical events and addressed wider issues such as gender, race and mental illness; and honoring pioneering creators such as Stan Lee, Jack Kirby, and Steve Ditko, whose imagination made Marvel into the endlessly expansive fictional universes we know today.
"Marvel transformed the idea of the Super Hero in the 1960s—and beyond—by ratcheting up the visual spectacle, emotional dynamism and philosophical sophistication of the action-adventure comics genre," says Brian Crosby, head of Marvel Themed Entertainment. "Marvel has always been a reflection of the world outside your own window and one of its most compelling messages has always been that anyone—regardless of race, religion or gender—can be a Super Hero."
Breathtaking artifacts thrill collectors and casual fans alike, immersive set pieces and interactive installations bring the comic book world to life, and the visual aspects of the exhibition are accompanied by an immersive soundscape created by acclaimed composer Lorne Balfe. Visitors will enjoy the opportunity to travel through the mysterious mirror dimension of Doctor Strange; get up-close glimpses at concept sketches, props, and costumes from Marvel Studios blockbusters; pose for selfies alongside life-size representations of Black Panther, Spider-Man, and other characters; see the original art from some of Marvel's most notable comics; and even step into Tony Stark's lab to test the capabilities of the Iron Man armor for themselves.
The exhibition has been curated by an outstanding team that includes three scholars of comics – Benjamin Saunders, Matthew J. Smith and Randy Duncan, all of whom are university professors and experts in their field. Renowned comics writers and editors Annie Nocenti and Danny Fingeroth also contributed their time and knowledge to create a fully-formed picture of the Marvel phenomenon.
About Discovery Place Science
Discovery Place Science is the leading hub for science learning in the Carolinas—dedicated to the exchange of ideas, scientific exploration and creative expression to stimulate innovative problem-solving and learning. The Museum brings relevant, contemporary science to life through groundbreaking exhibitions, interactive educational programming and hands-on activities. Located in Uptown Charlotte at 301 N. Tryon Street, convenient parking is available in the Museum's parking deck—the Carol Grotnes Belk Complex—at the corner of Sixth and Church streets. For more information about Discovery Place Science, call 704-372-6261, visit discoveryplace.org, or connect with Discovery Place Science on Facebook, Twitter, Instagram and YouTube.
The Marvel: Universe of Super Heroes exhibition is produced by Semmel Exhibitions, Marvel Entertainment and MoPOP.
TASCHEN and Marvel Entertainment Announce
'The Marvel Comics Library'
Famous First Edition:
First printings of 5,000 numbered copies
ABOUT THE SERIES:
TASCHEN's extra-large format, close in size to the original artworks, reveal startling new details in the work of Marvel's most acclaimed artists. For each title in the series, the most pristine pedigreed comics (from the collection of our own SHELTON DRUM!) have been cracked open for reproduction in close collaboration with Marvel and the Certified Guaranty Company. Rather than recolor the original production artwork (as has been done in previous decades' reprints of classic comics), TASCHEN has attempted to create an ideal representation of these books as they were produced at the time of publication. Beginning with high grade, top-quality comics sourced with the assistance of the CGC, super-high-resolution photographs of each page were made as printed more than half a century ago, using modern retouching techniques to correct problems with the era's inexpensive, imperfect printing. This included improved and balanced ink densities and color matching, proper registration of the four-color printing and correction of thick/thin lines resulting from the flexible plates "smudging." The end result is a finished product — as if hot off a world-class printing press produced without economic or time-pressure constraints – tailored for readers, fans, artists and collectors alike.
Each volume features an essay by a comic book historian alongside hundreds of photos and artifacts. The books use three different paper stocks, including an uncoated and wood-free paper exclusively developed for this series that simulates the feel of the original comics.
The first 5,000 copies of each volume will be numbered and released as a 'Famous First Edition'. These books are also available as a Collector's Edition, limited to 1,000 copies featuring an aluminum print cover tipped into a leatherette-bound spine, foil embossing, and housed in a slipcase. Each book is individually numbered. The inaugural purchase of the Collector's Edition entitles the collector to the selection of a personal favorite number between 1 and 1,000 on a first-come-first-serve basis. This will also secure a preemptive right to reserve a copy with the identical edition number for all forthcoming Collector's Edition titles in 'The Marvel Comic Library'.
The next title in 'The Marvel Comics Library' series will be Captain America, scheduled for release in 2023.
Shelton granted exclusive and unprecedented access to some of his most prized and beloved comics, and art, to assist in the creation of this comics tome.
"Working with TASCHEN and the CGC on these books has been an honor. The finished product FAR EXCEEDS any pre-conceived expectations I may have held! I just opened the box with the book, and I know the word might be overused, but it is FANTASTIC! The production quality is awesome. I love it!"
We have a few copies available for purchase in-store NOW, or you can
pre-order your copy to have it shipped!
Pre-Order your copy for pick-up in our store HERE

Shipping is an additional $25.00 if you are unable to pick up in store.
Order your copy to be shipped HERE
Ships within the US ONLY



HAVE OLD COMIC BOOKS?
CALL US!
We have been buying and selling for
OVER 50 YEARS!
We provide evaluations, advice and an offer if you are looking to sell! You owe it to yourself to get our expert evaluation before you sell!

Send an email to Shelton@heroesonline.com or call us at 704-375-7462


BOOKS SHIPPING THE WEEK OF: MAY 31, 2023
ALIEN #2 | 4.99
ALIEN #2 1:25 FELIPE MASSAFERA | *
ALIEN #2 DAVE JOHSNON | 4.99
AMAZING SPIDER-MAN #26 | 4.99
AMAZING SPIDER-MAN #26 1:100 SIMONE BIANCHI VIR | *
AMAZING SPIDER-MAN #26 1:25 LARRAZ | *
AMAZING SPIDER-MAN #26 BIANCHI | 4.99
AMAZING SPIDER-MAN #26 GARY FRANK SPOILER | 4.99
AMAZING SPIDER-MAN #26 TALASKI SPIDER-VERSE | 4.99
ANCIENT ENEMIES #4 (OF 6) CVR A BEYRUTH | 5.99
AVENGERS BEYOND #3 (OF 5) | 3.99
AVENGERS BEYOND #3 (OF 5) CLARKE | 3.99
AVENGERS BEYOND #3 (OF 5) NAUCK SPIDER-VERSE | 3.99
AZZA THE BARBED #5 (OF 5) | 4.99
BARBARELLA CENTER CANNOT HOLD #4 CVR A CHEW | 3.99
BETSY BRADDOCK CAPTAIN BRITAIN #4 | 3.99
BETSY BRADDOCK CAPTAIN BRITAIN #4 DAVI GO | 3.99
BONES OF THE GODS #4 (OF 6) | 4.99
CAPTAIN AMERICA SYMBOL OF TRUTH #13 | 3.99
CAPTAIN AMERICA SYMBOL OF TRUTH #13 PETE WOODS SPIDER-VERSE | 3.99
CARNAGE #13 | 3.99
CARNAGE #13 1:25 PHILIP TAN | *
CARNAGE #13 RYAN STEGMAN VENOM THE OTHER | 3.99
CARNAGE #13 SKAN | 3.99
CARNAGE #13 TAURIN CLARKE CONNECTING | 3.99
CAT FIGHT #1 CVR A KYRIAZIS | 3.99
CAT FIGHT #1 CVR B BEEM | 3.99
CLOBBERIN TIME #3 (OF 5) | 3.99
CLOBBERIN TIME #3 (OF 5) PANOSIAN | 3.99
CURSE OF CLEAVER COUNTY #2 | 4.99
DC CONNECT #37 OPT-IN BUNDLES OF 25 | FREE
DC PRIDE 2023 #1 (ONE SHOT) CVR A MATEUS MANHANINI | 9.99
DC PRIDE 2023 #1 (ONE SHOT) CVR B GABRIEL PICOLO WRAPAROUND | 9.99
DC PRIDE 2023 #1 (ONE SHOT) CVR C OSCAR VEGA | 9.99
DC PRIDE 2023 #1 (ONE SHOT) CVR D JEN BARTEL FOIL | 11.99
DEADPOOL #7 | 3.99
DEADPOOL #7 BEN SU | 3.99
DEADPOOL #7 MOMOKO SPIDER-VERSE | 3.99
DEEP CUTS #2 (OF 6) | 5.99
DEEP DARK #2 (OF 4) | 4.99
DETECTIVE COMICS #1072 CVR A EVAN CAGLE | 4.99
DETECTIVE COMICS #1072 CVR B KELLEY JONES CS | 5.99
DETECTIVE COMICS #1072 CVR C MIKE PERKINS CS | 5.99
DETECTIVE COMICS #1072 CVR D 1:25 SEBASTIAN FIUMARA CS | *
DOCTOR STRANGE #3 | 4.99
DOCTOR STRANGE #3 ASRAR SPIDER-VERSE | 4.99
DOCTOR STRANGE #3 LEE SISTER GRIMM AAPI HERITAGE MONTH | 4.99
DOCTOR STRANGE #3 STEGMAN | 4.99
DOG BOY CHOICE CUTS & HAPPY ENDINGS TP | 36.99
DOOR TO DOOR NIGHT BY NIGHT #6 CVR A CANTIRINO | 4.99
EDGE OF SPIDER-VERSE #2 (OF 4) | 4.99
END AFTER END TP VOL 01 | 19.99
EXTINCTS GN VOL 02 FLIGHT OF THE MAMMOTH | 14.99
FAITHLESS HC DLX ED | 69.99
FANTOMAH SEASON 2 #1 CVR A MORISSETTE-PHAN | 5.99
FANTOMAH SEASON 2 #1 CVR B FAWKES | 9.99
FRANKLIN AND GHOST #1 (OF 8) CVR A TROM | 4.99
FRIDA KAHLO HER LIFE HER ART HER HOME GN | 18.99
GARGOYLES #6 CVR A NAKAYAMA | 3.99
GARGOYLES #6 CVR B CONNER | 3.99
GARGOYLES #6 CVR R FOC HAESER ORIGINAL | *
GOOD ASIAN 1936 DLX ED HC | 39.99
GRIM REAPER PACK (BUNDLE) #1 | 39.99
ICON VS HARDWARE #3 (OF 5) CVR A RAHZZAH | 4.99
ICON VS HARDWARE #3 (OF 5) CVR B MATEUS MANHANINI | 4.99
ICON VS HARDWARE #3 (OF 5) CVR C 1:25 DARRYL BANKS | *
JURASSIC JEFF GN VOL 01 SPACE INVADER | 13.99
KITSUNE #3 (OF 6) | 4.99
KNEE DEEP TP BOOK 01 | 21.99
LADY DEATH DIABOLICAL HARVEST #1 (OF 2) CVR A STANDARD BERN | 5.99
LEGION OF EXCEPTIONAL GORILLA MEN #1 CVR A AHMAD | 3.99
LISTEN BEAUTIFUL MARCIA HC | 29.99
LOCAL MAN #4 CVR A SEELEY FLEECS REBER | 3.99
LOCAL MAN #4 CVR B MAUS | 3.99
NEVERENDER FINAL DUELS #3 (OF 3) CVR A | 3.99
NIGHTWALKERS #4 (OF 5) CVR A BOCARDO | 3.99
NORTH VALLEY GRIMOIRE #1 (OF 6) CVR A DALTON | 3.99
NORTH VALLEY GRIMOIRE #1 (OF 6) CVR B CAFARO | 3.99
NORTH VALLEY GRIMOIRE #1 (OF 6) CVR C NAKAYAMA | 3.99
NORTH VALLEY GRIMOIRE #1 (OF 6) CVR D ROCKWELL | 3.99
NORTH VALLEY GRIMOIRE #1 (OF 6) CVR E VIDEO GAME HOMAGE | 3.99
NORTH VALLEY GRIMOIRE #1 (OF 6) CVR I SEAN GORDON MURPHY | 3.99
PATHFINDER WAKE DEAD #1 CVR A ELLIS | 4.99
POPSCARS #3 (OF 6) CVR A GUILLEN | 3.99
POPSCARS #3 (OF 6) CVR B COOMBE | 3.99
POWER GIRL SPECIAL #1 (ONE SHOT) CVR A MARGUERITE SAUVAGE | 5.99
POWER GIRL SPECIAL #1 (ONE SHOT) CVR B STANLEY ARTGERM LAU CS | 6.99
POWER GIRL SPECIAL #1 (ONE SHOT) CVR C AMANDA CONNER CS | 6.99
POWER GIRL SPECIAL #1 (ONE SHOT) CVR D 1:25 TULA LOTAY CS | *
POWER GIRL SPECIAL #1 (ONE SHOT) CVR F DAVID NAKAYAMA CS | 6.99
POWER OF SHAZAM TP BOOK 02 THE WORM TURNS | 39.99
PUNISHER #12 | 4.99
PUNISHER #12 CASSADAY SPIDER-VERSE | 4.99
PUNISHER #12 SUAYAN | 4.99
ROCKETEER CVR A HUGHES | 4.99
ROCKETEER CVR B RODRIGUEZ | 4.99
ROCKETEER CVR C 1:10 HUGHES | *
ROCKETEER CVR D 1:25 RODRIGUEZ | *
SANJULIAN QUEEN LOST WORLD #1 CVR A OLIVETTI | 4.99
SANJULIAN QUEEN LOST WORLD #1 CVR B SANJULIAN | 4.99
SANTOS SISTERS #4 | 5.00
SAVAGE STRENGTH OF STARSTORM #1 CVR A DREW CRAIG | 3.99
SAVAGE STRENGTH OF STARSTORM #1 CVR B WES CRAIG | 3.99
SERENO #1 CVR A VECCHIO | 5.99
SILVER SURFER GHOST LIGHT #4 | 3.99
SPAWN SCORCHED #18 CVR A BOGDANOVIC | 2.99
SPAWN SCORCHED #18 CVR B RENAUD | 2.99
SPIDER-MAN 2099 DARK GENESIS #5 (OF 5) | 3.99
SPIDER-MAN 2099 DARK GENESIS #5 (OF 5) LASHLEY FRAME | 3.99
SPIDER-MAN 2099 DARK GENESIS #5 (OF 5) REIS CONNECTING | 3.99
STAR TREK ANNUAL 2023 CVR A STOTT | 5.99
STAR TREK ANNUAL 2023 CVR B HOCHREIGL | 5.99
STAR TREK ANNUAL 2023 CVR C YORKE | 5.99
STAR TREK MIRROR WAR TP | 24.99
STAR TREK PICARD TP STARGAZER | 17.99
STAR TREK TP WARRIORS OF THE MIRROR WAR | 17.99
STAR WARS DOCTOR APHRA #32 | 3.99
STAR WARS DOCTOR APHRA #32 EMA LUPACCHINO | 3.99
STAR WARS DOCTOR APHRA #32 SPROUSE RETURN JEDI 40TH ANN | 3.99
STAR WARS HIGH REPUBLIC ADVENTURES #5 (OF 8) | 3.99
STAR WARS SANA STARROS #4 | 3.99
STARMAN DAVID BOWIES ZIGGY STARDUST YEARS GN | 19.99
STATIC SEASON ONE TP | 19.99
STEEL A CELEBRATION OF 30 YEARS HC | 39.99
STREET FIGHTER 6 #2 (OF 4) CVR A NG | 5.99
TALES FROM NOTTINGHAM #4 | 3.99
TAO BANG HC | 24.99
TMNT SATURDAY MORNING ADV CONTINUED #1 CVR A LATTIE | 3.99
TMNT SATURDAY MORNING ADV CONTINUED #1 CVR B SCHOENING | 3.99
TMNT SATURDAY MORNING ADV CONTINUED #1 CVR D 1:10 | *
TORRENT #4 CVR A GREENWOOD & RENZI | 3.99
TORRENT #4 CVR B REVEL | 3.99
TORRENT #4 CVR C LEONARDI & RENZI | 3.99
TOY #2 CVR A CROC CAGED | 5.99
VAMPIRELLA STRIKES #13 CVR A PARRILLO | 3.99
VAMPIRELLA STRIKES #13 CVR B SEGOVIA | 3.99
VAMPIRELLA STRIKES #13 CVR C YOON | 3.99
VENOM LETHAL PROTECTOR II #3 (OF 5) | 3.99
VENOM LETHAL PROTECTOR II #3 (OF 5) 1:25 MANNA | *
VENOM LETHAL PROTECTOR II #3 (OF 5) PHILIP TAN | 3.99
W0RLDTR33 #1 2ND PTG | 3.99
W0RLDTR33 #2 CVR A BLANCO | 3.99
W0RLDTR33 #2 CVR B DANI | 3.99
W0RLDTR33 #2 CVR C 1:25 ROMERO | *
WEAPONS OF THE METABARON HC (2023 OVERSIZED) | 29.99
WILL EISNERS BEST OF SPIRIT ARTISAN EDTION TP | 39.99
X-23 DEADLY REGENESIS #3 (OF 5) | 3.99
X-23 DEADLY REGENESIS #3 (OF 5) PAREL | 3.99

*limited quantities, check for availability
If you would like to add any of these titles to your Reserve Bag, please call our store at 704-375-7462 or send an email requests to:

HeroesPulls@heroesonline.com OR
HeroesArentHardtoFind@gmail.com